Instructor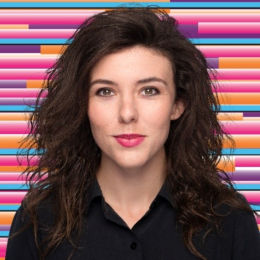 Hayley Hughes – UX Manager, Polaris Design System at Shopify. She formerly pioneered the Design Language at IBM, and led the evolution of the Design System at Airbnb.
Hayley's work has been featured in Women Who Design, Under Consideration, and "26 Innovations by 26 Women." She is a certified IBM Enterprise Design Thinking Leader and contributed to the Adobe + Idean e-book, "Hack the Design System."
What's on
This workshop will provide you with a framework for thinking about and making your design language system in a way that is centered around needs and values. Spoiler alert: there's no one-size-fits-all approach, so you'll need to bring the unique context of your organization to the table!
First, we'll share steps on the creation of a system. With purpose, process, and patterns in mind, we'll walk through the details that tie your design language to a holistic brand experience.
Second, we will deep dive on adoption strategies. Together we'll create a maturity model that breaks the whole system into parts teams can adopt over time.
Lastly, we'll talk about how to maintain and measure the health of a system. We'll focus on service design topics like feedback loops, contribution, and sustainable infrastructure.
My hope is that you walk away with guidance on how to create a system that can enable creativity, serve whole teams, and be resilient in the face of organizational change!